News
Hey, I've got good news to share:
Ich freue mich sehr auf die Zusammenarbeit mit angehenden Regisseur*innen der DFFB im Rahmen eines Regieseminars unter der Leitung von Christoph Hochh√§usler im November 2018!¬† Im Mittelpunkt des mehrw√∂chigen Seminars stehen Fragen der Szenendramaturgie.¬† Wir werden uns intensiv mit einer vorgegebenen Szene auseinandersetzen, diese drehen und nach dem Schnitt sp√§ter dann auch gemeinsam auswerten.¬† Being a strong believer in life-long learning, I love this approach! And who knows, vielleicht entsteht ja auch noch was Neues f√ľrs Showreel?
When fortune knocks open the door they say, and so I did: I´m very happy to support the actors´ ensemble at the Monbijou-Theatre Berlin during the summer season this year! In Goethe´s play FAUST, the latest production directed by Maurici Farre´ ,I was lucky enough to get 5 parts: the culture secretary, the duchess of Monbijou, the student, the witch and Marthe Schwerdtlein! As each and every role is triple-cast, I play my roles alternating with Franziska Hayner and Carolin Ott. If you want to see a performance where I play, please click on the following link to see the dates for which I am scheduled: calendar
For further information regarding play, performance & cast, please click here:
http://www.monbijou-theater.de/theater/faust.html
Please do come along and don't miss the show! You might be surprised to see that Germans do have a sense of humour after all : -) Last but not least, isn´t it great that all performances starting at 9pm will be supported by English subtitles?

Since January 2017 - ongoing: actor training seminars with Sigrid Andersson & Team at the Tankstelle Berlin (Tankstelle = petrol/gasoline station where actors can fill up their energy levels and train their skills)

From 27th February – 24th March 2017 I'll take part in a professional training course for actors offered by the ISFF Berlin: Casting-Training: national & international

My little book of poetry with the title "An einen Windflüchter" was published in September 2016 by the BS-Verlag Rostock (the so-called "Windflüchter" are beach trees which are twisted into bizarre shapes by the winds. I have no idea how to translate it. If anyone knows, please let me know!) – Anyway, I was happy to have the chance to introduce it myself at the Ahrenshoop Book Fair early in Oktober last year. It has been a completely new and inspiring experience for me to get in touch with people through my own texts and to receive their spontaneous feedback has been so enriching. Thank you so much!

If you are interested in a reading from my book or one of the staged readings as listed below, please do not hesitate to contact me!































On Love's Joy, Love's Sorrows & the Love of Life


A literary journey of discovery exploring the one sense-making theme which empowers us most throughout our lives and which makes our lives worth living: love...
This poetic, humorous but also thoughtful programme reflects on the theme of love in all its many forms and aspects, addressing not only the moments of blissful happiness but also the moments of conflicts and sadness. It also includes the kind of love which survives loss and grief and continues to grow beyond death.
The actress Béatrice Bergner has searched in the archives of love-literature and found testimonies, letters and poems of great men and women who tell us their stories about the loves of their lives: their dreams, their romantic yearning for each other, their passions and longings as well as their feelings of burning jealousy, disappointment and loneliness.
The literary journey of poems, prose and letters leads us from Shakespeare, Goethe, Gottfried Keller, Karoline von G√ľnderrode and Heinrich Heine via Beethoven, Robert Schumann and Clara Wieck up until to Anton Chechov and Olga Knipper, Rainer Maria Rilke, Yoachim Ringelnatz, Christian Morgenstern and Kurt Tucholsky. However, this programme also reveals in a humorous way how love letters have changed over the years and especially in the century of digital communication...
The Berlin-based musician Anke Meyer accompanies the programme on the piano utilising music by Robert Schumann, Ludwig van Beethoven, Johann Sebastian Bach and traditional folksongs.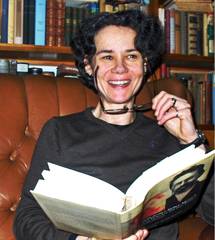 Download Flyer On Love's Joy, Love's Sorrows & The Love of Live
Jenny & Eleanor Marx 'Äď Two Women in the Shade of a Genius
Readings for Little Ones & Grown-Ups:
The Lady with the Dog by Anton Chekhov
The little Prince by Antoine de Saint Exupéry
The Canterville Ghost by Oscar Wilde
The Christmas Goose Auguste by Frederic Wolf
A Devil named Fidibus by G√ľnter Spang
Stories from Murkelei by Hans Fallada
Various tales by the Grimm Brothers for kids and grown-ups on demand