news ________________________________________________________________________________________________________________________________________________________>
May 2023: I have always liked the work of the Berliner Schlosspark Theater and so I am very happy to support the team of the artistic office in all administrative and organizational matters as well as in public relations.

April 2022: I can't help but think of Bertolt Brecht's words these days:
The great Carthage waged three wars.
It was still powerful after the first, still habitable after the second.
It was untraceable after the third.
Hopefully, common sense will prevail, so that the worst can be prevented through insight and a willingness to compromise amongst all parties involved.

March 2022: Though Ronald Unterberger's film THE BORDER, which had its premiere only last year due to Covid-19, could not quite do justice to
the important concern it has, I stand by my work and have now edited a showreel. Here is a small excerpt of my work Link showreel .

February 2022: First the pandemic, now the war in Ukraine, which makes me scared stiff, afraid of a war in the heart of Europe 3…

January 2022: I wish us all a peaceful, healthy, happy and prosperous New Year!


December 2021: A dear colleague who worked on TöLPELHANS wrote me a Christmas mail with the PS and link that TöLPELHANS can be seen online and has thrilled her little grandson aged 5… When I saw the pictures, I must admit, I was a bit touched: TöLPELHANS was my first TV production and it was the first (and only ) time that I played a princess… And I met my future husband during the production, the director Bodo Schwarz, with whom I shared later on 11 years of my life… TöLPELHANS, played enchantingly by Thomas Schuch, my fellow student from "ERNST BUSCH" at the time, was shot in the summer of 1989, shortly before the fall of the Berlin Wall, and you can already tell when you watch the film that it was produced on a small budget. Nevertheless, it is the actors who bring the story to life … TöLPELHANS belongs to me and a very beautiful chapter of my life, and therefore I'm happy to share my memories and the link with you!
By the way, the first broadcast took place on December 25, 1989 on DFF (former GDR tv - channel)…

October 2021: Here is with new scenes taken from SOKO WISMAR, und TINA MOBIL..

July 2021: I did it and here it is: my new 2021 self-tape in English. The monologue I used I'd discovered on https://www.ace-your-audition.com
LIKE DREAMING, BACKWARDS - a play by Kellie Powell. Leah is the mother of Nell, who recently committed suicide.
Thanks to Kellie Powell for granting permission to use her work.
May 2021: I′ve got good news to share: from now on, I will be represented by the Actors′ Agency SUSANNE REIMANN. I′m looking forward to working together and would like to thank the ZAV-Berlin for their professional advice and support along my way so far.
April 2021: a heart-felt thank you to Joachim Gern for the exquisite new photos: Mr. Gern you′re gorgeous !
February 2021: Here are two selfies, the first on the left with fellow-actor Michael Ihnow, the second on the right showing "The fabulous Five"
- enjoying a day of filming an episode for SOKO WISMAR, [FLTR]: lead actors Dominic Boeer & Nike Fuhrmann, Sascha Thiel (director),
Michael Ihnow and I. We had lots of fun, I thank you guys from the bottom of my heart, and the crew and Sabine Weimann Casting!
(PS: …no worries please: we 've all been tested negative for Covid-19 and were wearing our masks on set).

January 2021: Besides uncertainty, death and loss, there is something positive that Covid-19 has brought in its wake: the time to stop & pause…
to get things done one had meant to sort out a long time ago. Tidying up the magnificent mess on my desk, an old folder which had hidden away
in my mother's old secretary fell into my hands. It contained articles, theatre reviews, programmes and countless photos that she had carefully
cut out of newspapers and magazines and saved. A lot from the beginnings of my career, the late 80ies up to the 90ies, and about the first film &
television roles for DFF and children's television. Then the theatre engagements at the Volksbühne, the Berliner Ensemble and the Maxim-Gorki-
Theatre. After the downfall of the Wall, my first role in West-Berlin: at the Renaissance Theatre, where I had auditioned for "St Joan".
Theatre director Gerhard Klingenberg gave the part to somebody else first but changed his mind later. "Saint Joan" - the role for which he flew
me in later on from Hamburg, where I was playing en-suite at the time at the Winterhuder Fährhaus with Harald Juhnke in "Schon wieder
Sonntag" ("Sunday Again" by Bob Larbey). I had to take over the lead role of Johanna from a colleague in only 10 days so that the premiere date
wouldn't fall through… God, I remember how scared I was… but I took the plunge and lived up to the challenge. What helped me was that Hans
Teuscher was there, playing Cauchon. We knew each other from the Volksbühne from "Le Malade Imaginaire", where he played the leading role of
Argan and I the part of his daughter Louison. (When Hans Teuscher left the GDR "for the West", Hans-Peter Minetti took over the role). I would
very much like to share part of these memories with you. If you feel like browsing a little with me through some of the press pics and notes of
that time, you can do so here on my homepage. I was particularly happy about the reviews of "Johanna" ("St. Joan") by Rolf Hochhuth and
Hellmuth Kotschenreuther. Thank you, Mum, for saving and keeping it all; I really do appreciate it now … xxx

Well, this year Christmas will be different, yes, as everything is different these days, but: despite Covid-19, or should I rather say because of Covid-19, I wish everyone A MERRY CHRISTMAS and A VERY HAPPY, HEALTHY, PANDEMIC-FREE & PROSPEROUS NEW YEAR with lots of love and mutual respect for each other, happiness and work.

December 2020: This year comes to an end with another shooting day under Covid-19 restrictions. In the tv-series "Fritzie - Heaven has got to wait" I play Saskia, a small supporting part. Director: Neelesha Barthel, Casting: Anja Dihrberg, head of production: Norbert Ranft.
October 2020: X-filme creative pool and the RBB are currently producing a new mini-series "TINA MOBILE (WT)" (for which Laila Stieler wrote the
scripts!) and I am happy to be part of it. In episode 6, I play the part of Elizabeth. Director: Richard Huber, Casting Simone Bär, Producerin Maximiliane Prokop and Michael Polle. It was great, it was fun and it has shown: if we treat each other with true care in accordance with
the covid-19- hygiene requirements, then we will also manage the corona-crisis! Thanks to each and every one of you!
August 2020: Hey, would you believe it, but I've just joined Facebook ... Well yes, I did, so what?
Just in case you wonder why I have changed my mind at good last, the answer is simple: the Covid-19 pandemic and the enforced social isolation
that has come with it totally changed my attitude towards digital communication. Before Covid-19, I was kind of scared of social media and kept
thinking that digital technology has nothing to offer except stealing my precious time ... but ever since I enjoyed my first
ZOOM-meetings online i.e. with the free masterclasses the actor Nick Dunning offered at the beginning of the coronavirus crisis, or the free webinars the Deutsche Akademie für Fernsehen offers, I learned that it gives me a hell of a lot, namely almost direct, face-to-face interaction
with colleagues and friends wherever in the world they are ... As well as professional training! This was, still is a great feeling ... After all, I do believe in life-long learning, always have, and we are all in the same boat ... so it′s great to help and support and care for each other!
So, if you want to join me on facebook, here it is:
May 2020: The campaign #weactunited was launched by casters anja dihrberg, simone bär und suse marquardt via #castupload to #encourage,
#spread joy and a sense of # togetherness in corona-shaken times. Though i'm not a social media kind of person I felt so inspired by their passionate call, their own self-tapes and the overwhelming response of my colleagues that I felt the urge to contribute as well, to share something personal, something that gives me hope, comfort and consolation these days... Here it is, my #weactunited selftape to
#spread courage - just one minute long and featured as about-me-clip.
December 2019: Just finished shooting "Germany's Great Clans - The Joop-Story" ; a story as gripping as a thriller!
I play the part of Frau Friederitzky, director of the VEB Quintett Moden Glauchau in the former GDR in 1979.
director: Saskia Weisheit, Casting: Annekathrin Heubner, production manager: Katrin Thomas.TV broadcasting on: 10th March 2020, 8.15pm, ZDF.

Picture left with make-up artist Stefanie Dimitrow , in the centre the whole crew: THANKS TO ALL OF YOU! Marcus Schinkel,(front centre row) plays the part of Wolfgang Joop, director Saskia Weisheit to my right. On the right side with make-up artist Elisa Flehmer.
The authentic look of the 70ies back then in the days of the former GDR created costume designer Lena Wolf.
November 2019: I gladly accepted the part of Mrs. Schulze in "Pain Threshold"(WT), the upcoming episode of the USEDOM-crime-tv-series. director: Maris Pfeiffer, Casting: Anja Dihrberg. I don't have an air-date yet but will post it here as soon as I know.
Behind the scenes: set-pics of THE BORDER
with Anne Römeth (Eva), Anna Pfingsten (Laura), Ronald Unterberger (director) und Cornelia Werner (Nora), from left to right.

Lucky me! I've been cast in the movie "THE BORDER" by director Ronald Unterberger, who also wrote the script. We are shooting in Berlin from August to September 2019. The rehearsals have already started.
Once again I took part in the Self-Made-Shorties-Festival. This year's topic was "HAPPINESS." The participating actors were free to contribute their own ideas what happiness means to them. The only conditions given were: entirely self-made and no longer than 3 minutes sharp! Curious? Well, wait and see: On 28th June 2019 I will proudly present my 2019 self-made-shorty here ! Just click on the pic below:

2019 Together with students from the Arts School Weissensee, I'm currently working on a project based on Ingmar Bergman's film
"THE SERPENT'S EGG." The premiere is planned for June 2019.
Hey, I've got good news to share: I'm very much looking forward to collaborating with aspiring directors from the DFFB in November 2018! We'll discuss questions relating to scene dramaturgy before shooting the scenes and are going to eluate our work after. Being a strong believer in life-long learning, I love this approach!
When fortune knocks open the door they say, and so I did: I´m very happy to support the actors´ ensemble at the Monbijou-Theatre Berlin during the summer season this year! In Goethe´s play FAUST, the latest production directed by Maurici Farre´ ,I was lucky enough to get 5 parts: the culture secretary, the duchess of Monbijou, the student, the witch and Marthe Schwerdtlein! As each and every role is triple-cast, I play my roles alternating with Franziska Hayner and Carolin Ott.
For further information regarding play, performance & cast, please click here:
http://www.monbijou-theater.de/theater/faust.html
Please do come along and don't miss the show! You might be surprised to see that Germans do have a sense of humour after all : -) Last but not least, isn´t it great that all performances starting at 9pm will be supported by English subtitles?


Since January 2017 - ongoing: actor training seminars with Sigrid Andersson & Team at the Tankstelle Berlin (Tankstelle = petrol/gasoline station where actors can fill up their energy levels and train their skills)

From 27th February – 24th March 2017 I'll take part in a professional training course for actors offered by the ISFF Berlin: Casting-Training: national & international

My little book of poetry with the title "An einen Windflüchter" was published in September 2016 by the BS-Verlag Rostock (the so-called "Windflüchter" are beach trees which are twisted into bizarre shapes by the winds. I have no idea how to translate it. If anyone knows, please let me know!) – Anyway, I was happy to have the chance to introduce it myself at the Ahrenshoop Book Fair early in Oktober last year. It has been a completely new and inspiring experience for me to get in touch with people through my own texts and to receive their spontaneous feedback has been so enriching. Thank you so much!

If you are interested in a reading from my book or one of the staged readings as listed below, please do not hesitate to contact me!



















































On Love's Joy, Love's Sorrows & the Love of Life


A literary journey of discovery exploring the one sense-making theme which empowers us most throughout our lives and which makes our lives worth living: love...
This poetic, humorous but also thoughtful programme reflects on the theme of love in all its many forms and aspects, addressing not only the moments of blissful happiness but also the moments of conflicts and sadness. It also includes the kind of love which survives loss and grief and continues to grow beyond death.
The actress BĂ©atrice Bergner has searched in the archives of love-literature and found testimonies, letters and poems of great men and women who tell us their stories about the loves of their lives: their dreams, their romantic yearning for each other, their passions and longings as well as their feelings of burning jealousy, disappointment and loneliness.
The literary journey of poems, prose and letters leads us from Shakespeare, Goethe, Gottfried Keller, Karoline von GĂĽnderrode and Heinrich Heine via Beethoven, Robert Schumann and Clara Wieck up until to Anton Chechov and Olga Knipper, Rainer Maria Rilke, Yoachim Ringelnatz, Christian Morgenstern and Kurt Tucholsky. However, this programme also reveals in a humorous way how love letters have changed over the years and especially in the century of digital communication...
The Berlin-based musician Anke Meyer accompanies the programme on the piano utilising music by Robert Schumann, Ludwig van Beethoven, Johann Sebastian Bach and traditional folksongs.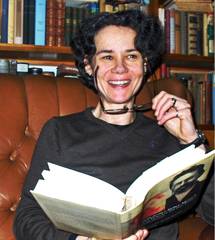 Download Flyer On Love's Joy, Love's Sorrows & The Love of Live
Jenny & Eleanor Marx – Two Women in the Shade of a Genius
Readings for Little Ones & Grown-Ups:
The Lady with the Dog by Anton Chekhov
The little Prince by Antoine de Saint Exupéry
The Canterville Ghost by Oscar Wilde
The Christmas Goose Auguste by Frederic Wolf
A Devil named Fidibus by GĂĽnter Spang
Stories from Murkelei by Hans Fallada
Various tales by the Grimm Brothers for kids and grown-ups on demand